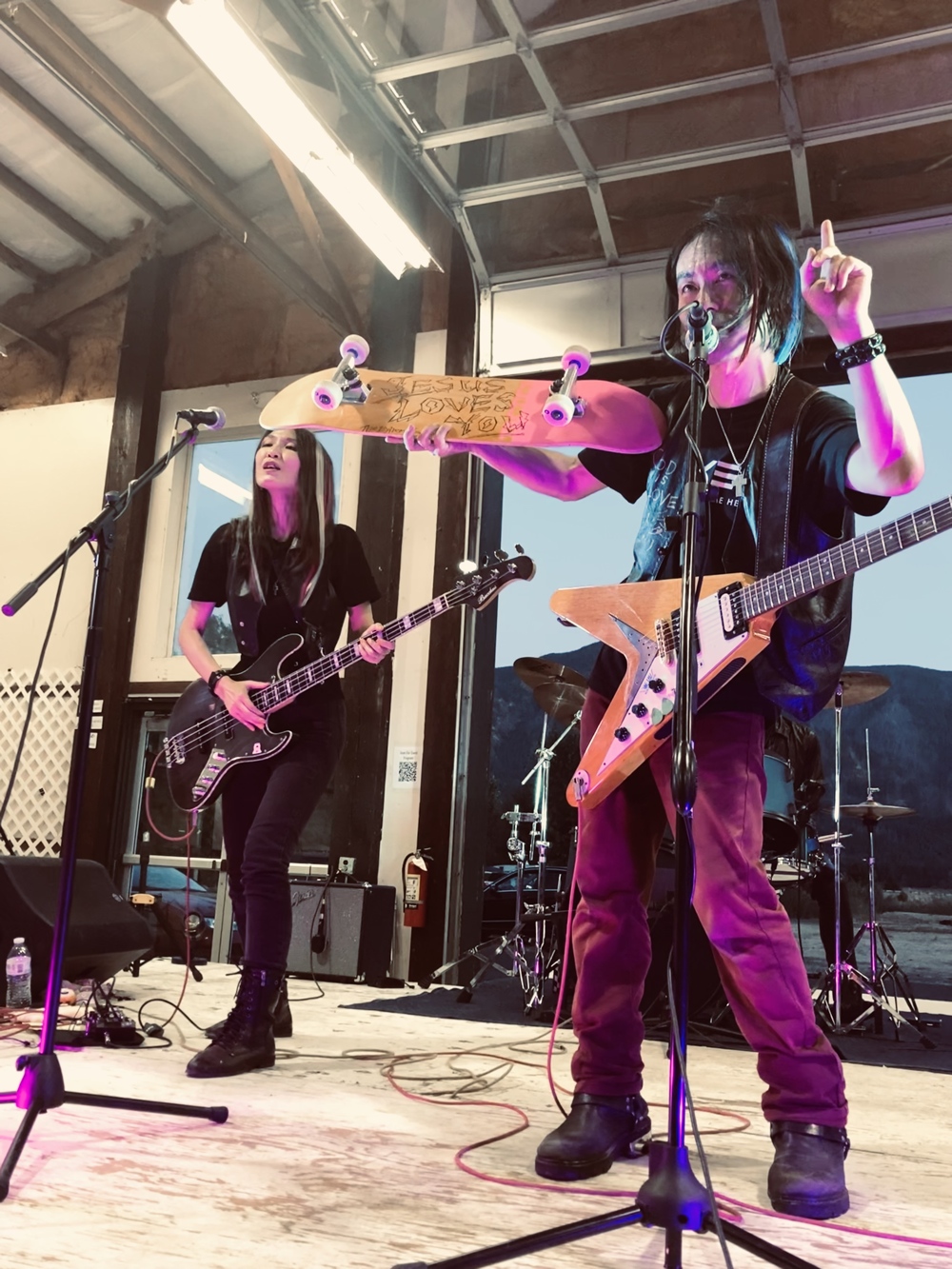 Let me tell you about this "Jesus Loves You" skateboard which we used on this tour. (The Extreme Tour 2022)
I wanted to bring my own skateboard from Japan, but then again I couldn't because airplane baggage limit. (We are musicians. We already had enough oversized baggages.)
We needed a skateboard just to say "Jesus Loves You" on stage. Because that's very important, right? And of course, to skate. Because The Extreme Tour involves so much skateboarding, playing shows at skateparks.
So this skateboard is something we bought at a skateshop in Portland OR.
It was there with us all the time, on stage with bands/artists from The Extreme Tour.
I rode this skateboard whenever we visited skateparks during the tour. Because I'm not a very skillful skater, I fell multiple times and eventually hurt my left hand. Still, thanks to prayers from our friends, I could play guitar until the end of the tour.
(I kind of expected this to happen, but how can I NOT skateboard when we are on The Extreme Tour??!!)
This skateboard was given to a young aspiring manga artist at our last show in Harrisburg Oregon. Because it's a tradition of The Extreme Tour to pass on this message of Hope to younger generation. (Maybe he can draw our album artwork in the future?)
It was very powerful when we said "Jesus Loves You!" loud and clear on stage, every time at The Extreme Tour shows. It's a declaration of love and it's a Love message for everyone. It's a love letter from God. And for some reasons we did it in an entertaining way…because Rock'n'Roll.
If we can do it in USA, we can do it in Japan.
We are decided that we are going to do this skateboard performance and "Jesus Loves You!" scream at every show in Japan. (We were doing it, but not at every show.)
Because we feel Spirit moving. Because we believe we can change our country. Because we have to declare Love in our town.
We have a local show in Kichijoji, Tokyo, on October 29th.
We will keep on rocking!
といった訳でライブ告知です。
Oct 29th Sat at Black&Blue, Kichijoji
10月29日(土)吉祥寺ブラック&ブルー
open/start 17:30/18:00
charge 2500+1d
Imari Tonesの出番は18:00からの予定です。
エクストリームツアーの勢いそのままにジーザスを宣言します!
イエスはあなたを愛していると伝えます
ぜひ体験しに来てください!