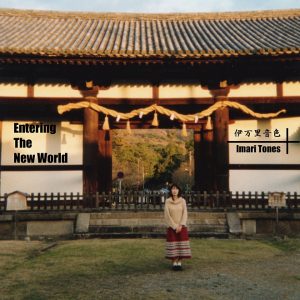 "Entering The New World"
Recorded in 2001
Download available at iTunes, Amazon and Bandcamp
Streaming available at Spotify, Apple Music and other services
1:Entering The New World
2:Changes!!
3:GoodBye,MySunshineTown
4:14000 light years away
5:Wait For Me
6:Growing Happiness
7:Fly With Me On Spring Breeze
8:Why Not?
9:Angels of Rain
10:Young Wolves
11:17's Requiem (Intro)
12:Seventeen's Requiem
13:Nara Teku Teku
This is 4th recording work done by Tak "Tone" Nakamine, recorded in 2001, when he came up with the band name "Imari Tones" and decided to dedicate his life to music.
Contrary to "Kodomo Metal" where Tak expressed his musical eccentricity, this album has its focus on Love and Emotion. When the world was trembling with shock as it entered new century, Imari Tones put its focus on personal love. This is the real start of Imari Tones, in its spiritual manner.
With emotional pop tunes like "GoodBye,MySunshineTown" and a Teenage-Pure-Ballad "Seventeen's Requiem", this is probably the most melodic album in Imari Tones' history. Some songs like "Changes!!" and "Growing Happiness" are still being played live, as of year 2010.
All songs are sung in Japanese. Drum tracks are played by software drum machine. Album cover is a picture of Marie (Tak's wife), standing in front of historic Tegaimon Gate, Todaiji temple, Nara, Japan.