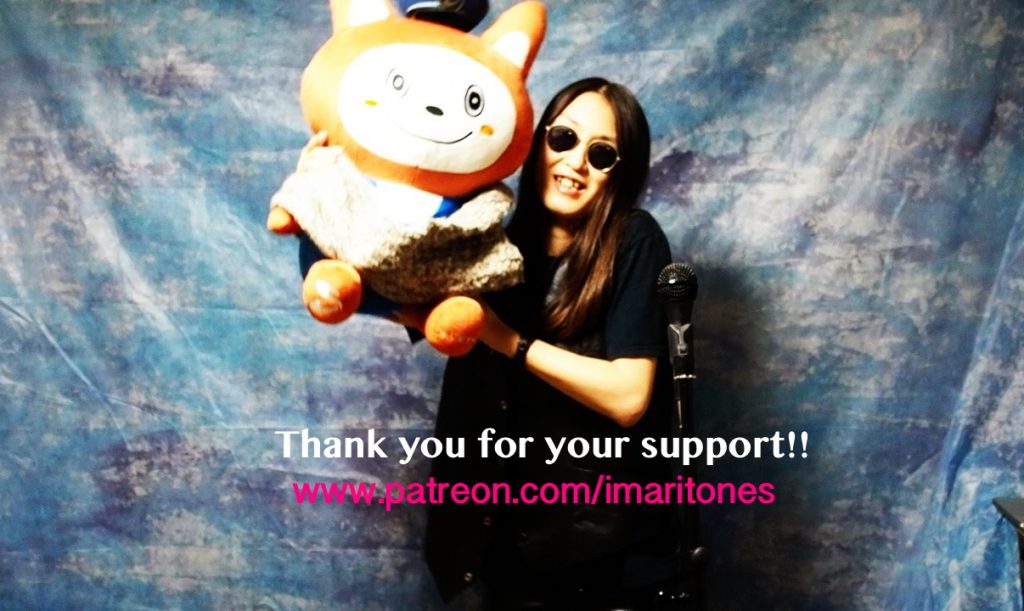 So we've been on Patreon for 4 months now.
Thank you very much for your support.
Something to confess.
We are writing/recording new song each month for Patreon.
We are posting short movies of those songs for PR reasons.
For us, this "new song every month" project on Patreon is very fun, at the same time it's a great opportunity to try out different styles. Those styles we won't usually do for Imari Tones. But we are doing it because it's a side project for Patreon.
Also this is a great opportunity for us to learn. Write, perform, record different styles. That is a great learning for us.
However, these songs are not our real style. Those songs don't represent us. They are a different side of us. I want you to understand this.
Those songs, we are making them with the best quality possible. But the movies, not necessarily. They are just easy home made movies we are quickly making in order to post songs on Patreon.
In this social media game, people tend to see what's posted at the moment and think this is us. They are not.
If you are new fans, or just have found us, please listen to our albums on Bandcamp, Spotify or any music platform. Listen to our albums such as "Jesus Wind", "Victory In Christ" and "Japan Metal Jesus". Those are our music. Those are our best albums.
If on YouTube, hear/watch our songs such as "Faith Rider", "Repent" and "Truth". Those are our best songs.
I say again. This Patreon project is fun.
But every time we post a teaser movie for monthly songs, I have this mixed feeling. They are good songs but they don't necessarily represent our band.
I want you to understand this is a different side of us.
(Still we have to post those teaser movies for PR reasons.)
…
This year we made a bunch of music.
We recorded so many projects.
– First half of this year we finished making "Nabeshima" album (the ultimate Japanese Christian metal we had been working on for a long time)
– In September we recorded a secret "Indie Rock" Project (totally new project that is not Imari Tones)
– In October we recorded an Acoustic EP (still working, will be finished soon and be released in December)
– and we've been recording Patreon monthly songs each month since July
Also we are working on the Best Album thing. Which we are in remastering stage.
However, we can't release those music soon, because it takes more business preparation.
That is a bit frustrating. But I'm guessing this is a time we need to be patient. Trust in God and wait for His timing.
This year 2020 has been tough for everyone.
We have had our own struggle, too.
In addition to COVID-19, we have had Koji's shoulder issue. Currently we can't play as a band.
However now we have some plan for the next year. We will start something new as a band. Hopefully Koji will be able to join and we will present you "Nabeshima" album with him.
It's a bit too long confession about our Patreon monthly songs and our current situation.
Just want you to know that we are working hard and many things are cooking behind the curtain.
And if you are willing, please support us on Patreon.
https://www.patreon.com/imaritones
We will keep giving you "so many styles" new songs each month and much more.
(Yes as little as $3 and we are very happy!)
Thank you very much for your support.
See you soon on our Acoustic EP. (Though it's mostly Japanese folk style.. .. I think our Japanese friends will be pleased.)
And please be excited for our best album and "Nabeshima" next year.
God bless you and be united in God.
In Jesus' name.
Tak "Tone" Nakamine / Imari Tones
p.s.
Here's the teaser movies of the monthly songs so far 🙂